Main Features:
Totally European design, streamlined looking
Taking off inner-stress of welded parts by tempering, good stability
Remove rust with sand-blast and coated with anti-rust paint
Once clamping can finish all working surfaces which will guarantee dimension precision and position precision.
The design of the machine frame is a critical part of any machine with relation to its ability to produce accurate parts for a long period of time.
Frames, assembly surfaces and connection holes are machined after the welding process, up to 60' in a single pass.
Main Configuration of cnc hydraulic press brake bending machine.
| | | |
| --- | --- | --- |
| No. | Name | Producer |
| 1 | CNC System | DELEM, DA-66T |
| 2 | Valve block for pressure | BOSCH/HOERBIGER |
| 3 | Valve block for synchronization | BOSCH, GERMANY |
| 4 | Main sealers in cylinder | NOK or SKF |
| 5 | Gear Pump | BOSCH |
| 6 | Linear Scale | HEIDENHAIN |
| 7 | Servo Motor | YASKAWA, JAPAN |
Safety Equipment:
EN 12622:2009 +A1:2013 / EN ISO 12100:2010 /EN 60204-1:2006+A1:2009
1. Front finger Protection(Safety light curtain)
2. South Korea Kacon Foot Switch(Level 4 of safetv)
3. Back metal safe fence with CE standards
4. Safety relay with Monitor the pedal switch and safety protection
Inspection Criterion:
Inspection criterion: According to China standard criterion GB-T14349-93《Precession of hydraulic press brake》and JB2257.1《Technology requirements of hydraulic press brake》.
Delem CNC Control system:
1. The compact Delem CNC system is a complete CNC solution for conventional as well as synchronised press brakes.
2. The panel based control, capable of controlling up to 4 axes, can be integrated in cabinets as well as in an optional pendulant arm housing.
3. Equipped with the Delem user-friendly user interface, the DA-52s provides all main press brake functionality.
4. The unique 'hotkey' navigation gives direct access to the programs in memory and enables quick and easy programming of a product. All common bend parameters are located on one page. For advanced parameters an additional page can be selected.
5. Angle programming of the Y-axis, crowning function and pressure control are standard on board.
6. USB interfacing enables the use of memory sticks as a fast product and tool backup medium.
Reference machine photos:
Front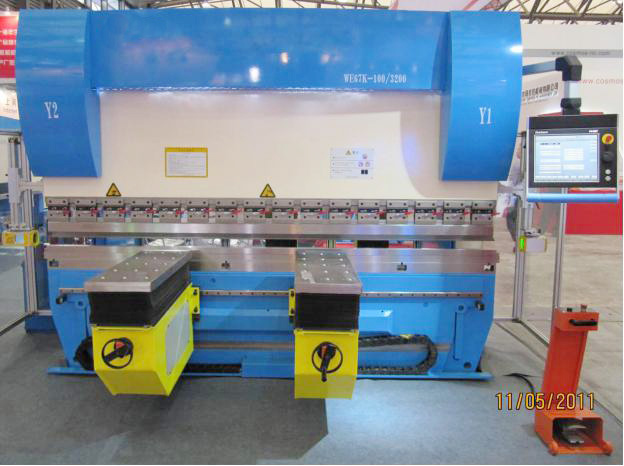 Back: