* Fiber Laser Source
--Brand: Raycus
--100, 000 hours life time, more stable, cost-efficient, free maintenance.
--The best brand in the World, quality has assurance.
* Control System
* Brand: CYPCUT
* Details: Auto edge seeking function and flying cutting function.
* Supported Format: AI, BMP, DST, DWG, DXF, DXP, LAS, PLT, NC, GBX etc...
*The Beam of Machine
* Type: Aviation aluminum Beam
* Structure: Manufactured with aerospace standards and formed by 4300 tons Press extrusion molding. After aging treatment, its hardness can reach 6061 T6, which is the strongest hardness of all beams.
* Advantages: Good toughness, light weight, stronger corrosion resistance, anti-oxidation, low density to increase the moving speed of laser head.
* Comparison:
--Steel Gantry: 280kg;
--Cast aluminum Gantry: 180kg;
--Aviation aluminum Gantry: 138kg.
With a light weight, it will greatly increase the processing speed.
PS: We are the first manufacturer to adopt aviation aluminum gantry.
* Machine Bed
* Type: The Segmented Rectangular Tube Welded Bed
* Structure advantage:
The internal structure of the bed adopts the aircraft metal honeycomb structure, which is welded by a number of rectangular tubes. Stiffeners are arranged inside the tubes to increase the strength and tensile strength of the bed, it also increases the resistance and stability of the guide rail so as to effectively avoid the deformation of the bed.
* For material :
Through 600℃ heat treatment to keep stronger and more solid.
* Feature:
High strength, stability, tensile strength, ensuring 20 years of use without distortion;
Thickness of rectangular pipe wall is 10mm and weights 4500 kg.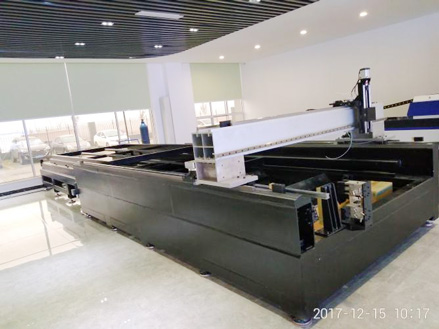 *Laser Head:
* Brand: Swiss Raytools auto-focus laser head
* Advantages:
--High Presicion: Without manuel, zero fault.
--High Effectiveness: Without manuel, Save time
--High Safty: Anti-collision design, height adjustment high sensitivity

*Gear and Rack - Taiwan YYC
* High precision, long life, can provide rigorous support for quenching helical gears and grinding helical gears, so that the load drive structure is compact, can effectively reduce the driving torque.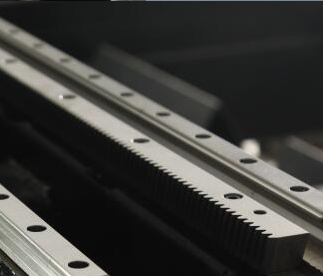 * Transmission for Z axis
* Brand: Taiwan TBI Ball Screw
* Details: High efficiency, pre-tightening and high rigidity, long life, high-speed feed.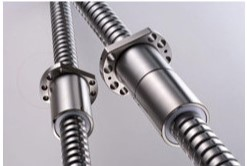 * Servo Motor-Japan YASKAWA
* Y axis: two sets 1.8kw Japan YASKAWA servo motor and driver.
* X axis: one set 850w Japan YASKAWA servo motor and driver.
* Z axis: one set 750w Japan PANASONIC servo motor and driver.
Higher power of motor and drive makes higher moving speed for laser head.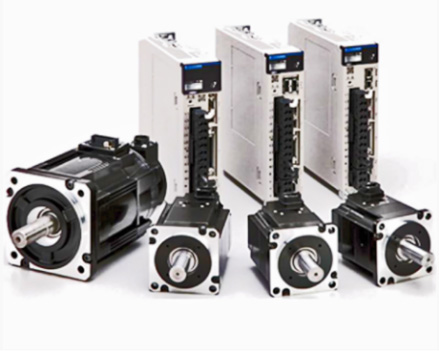 * Electronic Component
* Brand: France SCHNEIDER
* Details:
--Circuit protection against short-circuit currents, Circuit protection against overload currents, Breaking and industrial disconnection as per standards IEC/EN 60947-2.
--Overvoltage resistance, High performance limitation to fast closing independent of the speed of actuation of the toggle.
* Square Rail
* Brand: Taiwan HIWIN
* Advantage: Low noise, wear-resistant, smooth to keep fast Moving speed of laser head.
*Details: 35mm width and 165 four pieces stock on every table to decrease the pressure of rail.
* Pneumatic Components
* Brand: Japan SMC
* Details:
--Stepless control of air pressure proportional to an electrical signal.
--Serial communications specifications.
--Compact/lightweight (Integrated communication parts).
* Bearing
* Brand: Japan NSK
* Details:
--These bearing housings have square flange which can be easily attached to a machine with four bolts.
--With its simple mounting face, this bearing unit is widely used.
* Automatic Exhaust System
* Details:
--Remove the smoke and dust caused by metal cutting.
--The exhaust frequency and quantity can be set by adjusting the parameters on computer.
* Water Cooling System
* Brand: 500w TF Chiller
* Details: Dual cooling function, Hot water for laser head and cool water for laser source to keep them around a certain temperature and guarantee their normally work.
* Environmentally coal added, more environmentally and friendly for the workers.