Sep. 07, 2022
A lathe is basically a machine used to form materials such as wood or metal by rotating it rapidly along its axis while pressing a fixed cutting or grinding tool against it. Lathes help in creating precise and uniform grooves around the surface of the material.
There are various types of lathes available in the market including light, medium and heavy duty lathes. They are used to perform different metal forming tasks in various industries. Heavy-duty lathes are best suited for industrial applications that require large pieces of metal to be formed.
The Difference
A heavy-duty lathe can rotate the workpiece along its axis like a regular CNC lathe to perform operations such as grinding, cutting, drilling, etc. Heavy-duty lathes are designed with special turning spindles that are different from other machines. A heavy duty CNC lathe is a unique type of CNC lathe. If you want a very high grade lathe that does not need to be upgraded in the future, then a heavy duty lathe is certainly a good investment.
For turning tasks
Compared to conventional machines, heavy duty lathes are machines made of high quality materials and are equipped with the most advanced technology. The various designs of heavy duty CNC lathes involve its center height, bed width, maximum swing, spindle type, travel time, etc..
Heavy-duty CNC lathes are highly efficient machines that are particularly suitable for high volume production due to their in-machine turning advantages. Heavy-duty CNC lathes are ideal machines for shop metalworking and metal spinning applications, as well as for repair shops, power plants, rolling mills, shipyards, paper mills, and even for metal production work in the textile, oil and mining industries.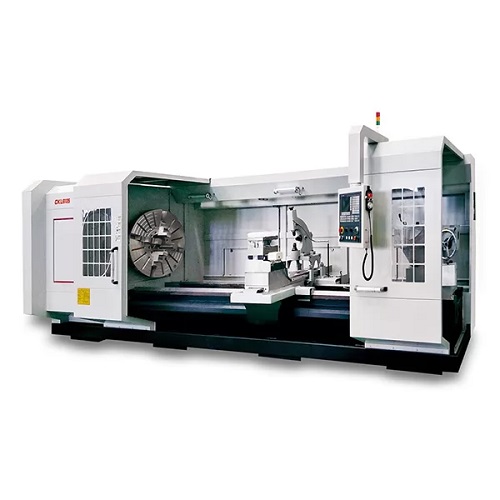 Perfect design
Heavy-duty lathes are well designed and durable, ensuring longer service life and optimum performance in large metalworking operations. These ultra-modern machines are manufactured using advanced technology and use relatively less resources to obtain higher quality output. Heavy-duty lathes are mainly used for high-end machining tasks.
Heavy-duty lathes are mainly used in heavy industry and high-volume production. They are efficient and versatile. They can run at higher speeds. Low noise and low vibration are some of the attractive features of heavy duty lathes. Depending on the specific requirements, heavy-duty lathes can run continuously and accurately for long periods of time. In addition, heavy-duty lathes are usually manufactured using high-grade and non-corrosive raw materials.
Heavy-duty lathes are preferred for their high quality finishing and high tensile strength. This zero-defect machine is manufactured to industry standards and thoroughly tested. As a result, it is widely used for a variety of heavy machining operations.
Choose us
The most challenging part of heavy-duty lathes for handling heavy workpieces is the accuracy of the formed or deformed dimensions. Cast iron and aluminum workpieces are difficult to machine to a specific accuracy, so other shop equipment is often used to solve these problems.
Considering the difficult work and safety issues, many machines have been introduced in the market to carry out the difficult part of metal production. haven is one of the platforms of CNC lathe manufacturers and we can offer innovative and shop friendly equipment.
Advanced technology is now capable of producing models that ensure faster, cleaner and more accurate forming tasks. Simple installation, robust construction, greater durability and energy-saving features are the outstanding features of our heavy-duty lathes.
For more information about shop machines, hydraulic bending machines, heavy-duty lathes, and laser cutting machines, please visit HAVEN's website to learn more or send us a message for a product list and quote.