Nov. 19, 2021
The first step in manufacturing sheet metal parts is to cut them to a certain size. Shears and blades perform this function. Shears are versatile machines used to cut alloys and other sheet metal. HAVEN provides you with information on shears and hydralic shear machines sizes and specifications.
Some shears use an angular shearing action similar to scissors to cut metal into sheets or strips. Other larger machines use a linear shearing action where the blades are fixed at an angle rather than an angular motion. The shearing operation is performed by the action of two blades, one fixed to the shear bed and the other moving vertically with little or no clearance. A typical shear includes a fixed bed with one blade mounted, a vertically advancing crosshead, and a series of hold-down pins or presser feet that hold the material in place while cutting occurs.
Definition of special terms
Capacity/operating force is the operating pressure load required to cut parts during production.
The rated capacity of a press is the pressure (in tons) safely applied by the ram or plunger at the bottom of the stroke while working within the press range.
Stroke is the ram travel from the upper stop (TDC) to the lower stop (BDC).
Stroke speed is the linear speed of the ram or pusher during the press or pusher advance step.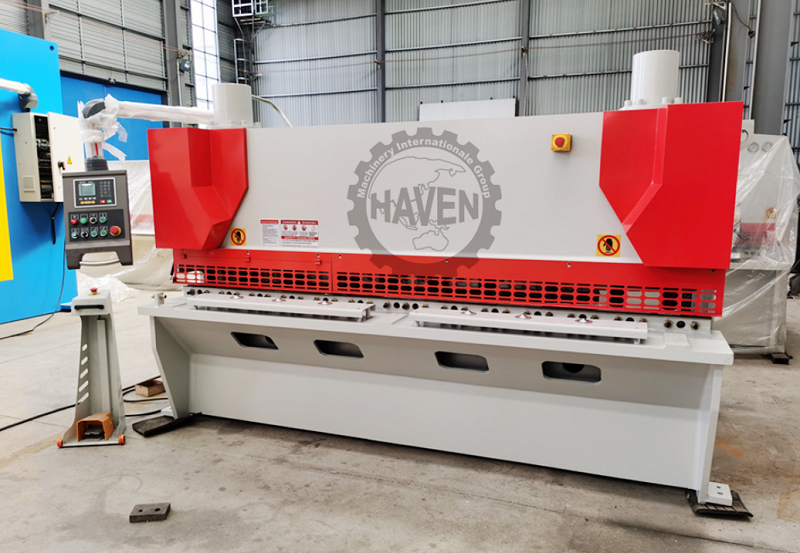 Component Part Specifications
An important consideration when specifying and purchasing metal shearing equipment is the size required to fit your range of workpieces.
Sheet / Material Thickness
Sheet/material thickness is the thickness of the sheet or web that can be cut.
Sheet/Working Length
Sheet/material length is the maximum working distance dimension that can be cut from right to left.
Throat Depth
Throat depth is the distance from the centerline of the plunger to the back frame of a gap frame, C frame, or similar press type.
Manual action
The manual (foot switch/pendant/button) action is controlled manually by an operator interface device such as a foot switch, pendant, or button control.
Indexing device
Automatically loads parts into the system and operates without operator intervention. The machine changes or adjusts tools and other parameters, such as speed or applied load, in a pre-programmed manner.
CNC controllers
CNC controllers or PLC controllers for programming and performing a series of operations on the press.
Shearing machines (sheet metal) require regular maintenance. Shear sharpening must be done regularly so that the scissors do not produce poor quality cuts. In addition, shear sharpening must be carried out using the appropriate equipment. For shear blades, the angle of the cutting edge and the finish of the grind are important factors in determining shear performance and service life. If you want to know more please send us a message and we will answer you asap.